Every mobile and PC user today faces the challenge of processing video – performing at least basic operations, and often more complex ones. This can be done with a variety of tools. FlexClip is one great service of them.
What is FlexClip
FlexClipis an online video editing tool that possesses many powerful features to help you unleash your creativity on your favorite photos and video clips, even if you are not a professional.
You do not need to install any software on your computer. Just register an account on the website, you can create videos with a lot of features as follows:

– Cutting and merging videos.
– Easily add video clips from the computer or FlexClip media library within the app.
– Add, edit the caption text in the video as you like.
– Adjust the resolution, filters, colors, and other effects.
– Zoom, rotate the video quickly 90 degrees clockwise, or counterclockwise.
What types of videos do you use FlexClip to help you make?

FlexClip has integrated a set of image libraries, high-resolution videos with a variety of topics like travel, business, family, animals, nature, etc. It allows you to create unique and impressive videos as follows freely:

– Video introductions about the company, product, real estate, commercial centers, etc.
-Product promotions, marketing ads, and business presentations.
– Videos of wedding, birthday, travel, and holiday.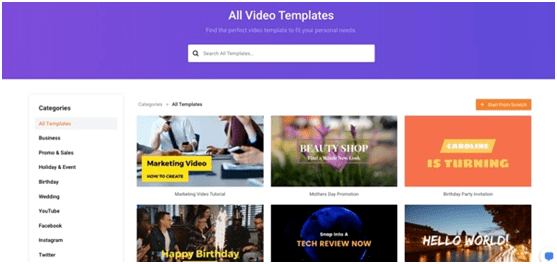 How to create and edit videos in FlexClip
The online video editor has great capabilities. It will allow you to create presentations with photos you have already taken by adding background music and captions. You can also save the screen to your computer to create video tutorials. It is an application that will meet the needs of people in all kinds of professions, along with amateur activities.

FlexClip lets you import videos and photos to create attractive videos. It supports almost all major editing features, such as rotate, split, or crop, with high precision.

With this free online service, you can easily add custom effects to your video – for example, an animated title by selecting from the available fonts and styles. It is also possible to add a logo or watermark to your corporate image.

The voice recording option is also interesting to make your video more personalized. And the built-in media player lets you view the video in real-time to make changes more conveniently.

Creating videos, movies, and slideshows is as easy as possible. You have all the tools to create, edit from the template available on FlexClip, or create videos on FlexClip with your own media library.

First, go to https://www.flexclip.com/homepage, register an account by clicking Sign Up – Free, and fill in the information as required. The registration is not required, but with an account, you can save changes automatically when editing in case of any data loss.

The Template interface appears with many pre-made video themes that you can customize. If you want to use an existing video template to change the content, hover over the video, and select Edit.

On the video editing interface, FlexClip will split the video into different segments, with different content for users to easily edit.

To get new content, you need to click on the Storyboard plus icon with 3 places to get content as follows:

– Add Stock Media: Add from stock video available in FlexClip.
– Add Local Media: Add media files on the computer.
– Add Background: Insert background for the video.

You have options to customize each segment. You can apply various video editing and enhancement features, including cropping, removing unwanted segments, format correction, etc.

– Text: Edit the text with your messages, preferred color, font, size, etc.Adjust the time that text is displayed in the video segment.
– Music: Add and edit music to fit your video.FlexClip lets you import your own audio files or select resources from its music library.
– Zoom/Rotate: Zoom video to show the part you want or rotate video 90 degrees clockwise or counterclockwise.
– Speed: Adjust speed to make it slow or fast.
At the same time, when looking at the Storyboard bar below, when hovering over each scene, there will be 3 icons with different options as follows:

    Play From Here: Play this video segment.
    Duplicate: Duplicate this segment.
    Transitions: Add transitions type
To choose different transitions, you just need to click Transition, select the effect you want and then click Accept. And finally, to export the video, click the Export Video button in the upper corner of the screen.

Finally, you have to export your video in the selected quality for the intended purpose. Videos with a resolution of 480p and a duration of up to 1 minute are available for download free of charge.
The paid subscription offers some advanced features. For example, for $ 7.99 per month, you can create and download unlimited 1080p videos for up to 5 minutes.
Conclusion
In conclusion, if you want easy-to-use online video editing software, FlexClip Video Maker is a good choice. You can import videos and photos to the service to enhance your titles, background music, voice, logos, and more, and finally export them to the format you want.Wish you have the best products and the best experience!